BROKEN WAND :: JOHNNY THOMPSON
Tuesday, March 19, 2019 at 05:40PM
Dodd Vickers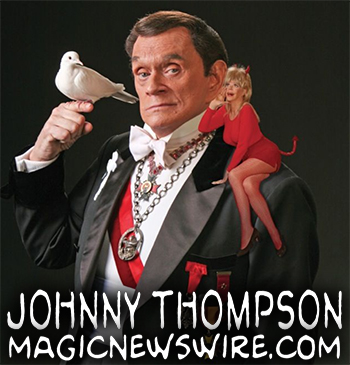 I am so very sad to report on the passing of yet another of the greats in our art. Johnny "The Great Tomsoni" Thompson was my guest on several episodes of the Magic Newswire's Spirit of Magic Podcast.
Johnny was much more than an extremely well respected performer and one of the funniest magicians out there. He was also a much sought after magic consultant and worked with such performers as Lance Burton, Penn & Teller and Criss Angel. In the first interview below, Johnny talked about his career as well as his experiences with other performers including Herb Zarrow, Jay Marshall, Marshal Brodein, Francis Carlyle, Paul le Paul, Paul Rosini, Joe Bergen, Cardini, Channing Pollock, Carl Balentine, Al Koran, Dai Vernon and Charlie Miller. In the second, we were joined by both Johnny & Pam for an episode of "This Week in Magic." In the third, he is joined by both Teller & Todd Robbins.
LISTEN TO THE "CHARLIE MILLER INTERVIEW" WITH JOHNNY, HARRY RISER & BOB WHITE:

LISTEN TO MY FIRST CONVERSATION WITH JOHNNY THOMPSON:

LISTEN TO BOTH JOHNNY AND PAM TALK ABOUT "TOMSONI & CO" IN OUR INTERVIEW FOR THIS WEEK IN MAGIC

HERE IS OUR CHAT WITH JOHNNY, TELLER & TODD ROBBINS
OTHER WAYS TO LISTEN:
GET IT AT ITUNES
Article originally appeared on The Magic Newswire (http://www.linkingpage.com/).
See website for complete article licensing information.